---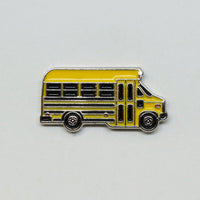 While I've loved cars for most of my life, my personal 'dream cars' haven't always necessarily been everybody's dream cars. Sure, I like a classic Mustang, but is it at the top of my list? Not exactly.
School busses have always held a special appeal to me as a vehicle. Whether it's the one you piled on with your friends for a class trip, or one that's been converted into a camper, or Ken Kesey's Furthur bus, school busses are often taking people someplace special. When my wife and I decided to have use a short bus as our transportation on our wedding day, I couldn't have been happier. A full size bus is great and all, but a short bus takes all of the functionality, some of the cargo space, and the lack of seatbelts, and packs it all into a cute little package, and that's why it's one of my Dream Cars.
Die-struck soft enamel pin. Yellow, black, orange and red enamel with silver plated metal. Rubber clutch.
1" wide